In this episode we speak with the podcaster Brad LeBaron about his Star Trek fandom and how the show helped him overcome some issues he had as a younger man.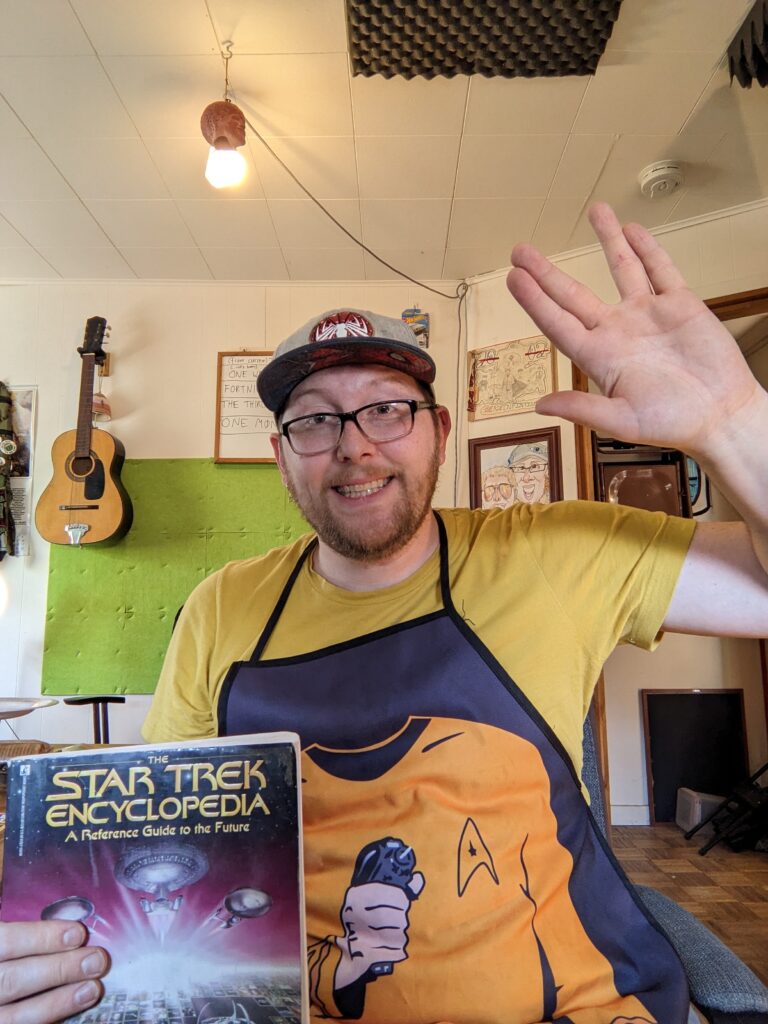 Topics
There was never a time without Star Trek
Migrating for the cheese
That's Dad's thing
Pre-empted by Sports
Comfort Food
Jumping around in the rewatch
Leaving Netflix was a problem
Not watching the new until caught up
Sister Mel is the one who is pushing Brad to get caught up
The Swiss Cheese model of viewing Star Trek
Solo Star Trek viewing
Movie and conventions were a family affair
Trek on the home screen
John's Live Tweeting Rules
Brad likes Earwolf
Tawny Newsome appreciation
The mysterious Starfleet Academy show
A Star Trek family
Thinking your Dad was Data, but realizing he's Worf
Being a Pastor's Kid too
Secret family members are a Star Trek thing
Lore is hilarious & fun
Not sure about who are the favorite characters
When you realize that you are the Data character
Maybe Data had emotions all along
Tom Hardy appreciation, but he was wasted in Nemesis
Tom Hardy in Locke (Trailer)
Brad loves and hates the Ferengi
Romantic storylines in DS9
Brad has social anxiety
John watched Derry Girls
Brad regrets some of the opinions he held when he was a younger man
Piglet & Jack the Ripper
John's interview with Maggie McNeill, who made him think of the episode in a new way
The rewatch never stops
Star Trek Enterprise and 9/11 for Brad
Anxiety as part of the character
Toxic Spirituality
Start Star Trek anywhere, is John's advice
The optimism and importance in the culture of Star Trek
Honorary Star Trek title awarded: Composer for the upcoming Captain Proton Rock Opera
Bonus Material

Gene's Vision was very horny
Fandom in the 1970s
Denim jacket back panel painting was the thing in the 1980's
John used to work with the world's biggest KISS fan
Concept Album Discussion
Culver's is for the Mid-West
In and Out Burger protein style burgers are superior
Brad likes King Gizzard & The Lizard Wizard
Learning audio? You need to appreciate Mike Russell from Music Radio Creative
Episodes Discussed
New Ground TNG S5E10
Datalore TNG S1E13
Little Green Men DS9 S4E07
It's Only a Paper Moon DS9 S7E10
Rejoined DS9 S4E05
Wolf in the Fold TOS S2E14
The Xindi Arc, ENT S3
An Obol for Charon DSC S2E4
Connect
Support
This show is a labor of love. If you'd like to show your support for Trek Profiles, please consider a donation to the official charity of the podcast: The Children's Fund for Glycogen Storage Disease (GSD). Click here to donate. Or click here to learn more about GSD.
Acknowledgements